The Genesis Framework is one of the most popular wordpress themes available for professionals.  Is the Genesis Framework worth the money?
We will look over who it is designed for, the purpose of it and my honest opinion.  All products have pros and cons, lets dive into the Genesis Framework Review.
Who is it Designed for?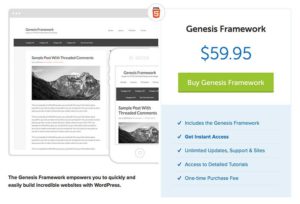 The framework is designed in mind of professional bloggers.  The price point is not affordable for beginners who are just starting out and also not as simple to use.  Studiopress the designer of the Genesis Theme has multiple "child themes" which only work after you've purchased the Genesis Framework.  The child themes are all professional looking, clean, and simple design concepts.  Nothing is flashy or jumping out at you, which is one of the main reasons I like it.  I believe that a simple design allows your readers to focus more on your website content then having popup's and flashy images everywhere.
If you are looking for a premium wordpress theme with HTML5 coding and SEO built in with future updates and support available then the Genesis Framework and child themes they offer is for you.
If you are a developer, who designs wordpress themes then purchasing the genesis framework would be a good investment.  The framework gives you a basic template and simple design that you can work off of.  HTML5 allows all future browsers to be used with the themes.  Most if not all of the themes are mobile friendly which is a massive bonus.
Is it Worth the Money?
I'd like to consider the framework an investment for your blog if you intend on making a business out of it.  Studiopress offers different packages to the customers.
For $59 you receive the Genesis Framework and child sample theme with it.  You receive access to all future updates, all the documentation available and support.
For $99-129 you can get the Genesis Framework and a Child theme of your choice.  Studiopress's website has sample child themes setup for you to try out and look at. You also receive access to all the future updates, all the documentation available and support.
For $500 you can receive the Genesis Framework and all the available child themes as well as all the new child themes that they add.  You will get all the future updates, all the documentation and support.
Child themes can be purchased individually for around $30 if you already own the genesis framework.
Do I consider it worth the cost? Yes I do, but it really depends on what you plan on doing with your blog and how you use it.  Everyone will have different needs.
Customization
The Genesis Framework has some simple customization, including color schemes and layout of the blog.  Widgets are easy to use and drag and drop.  You are able to change headers, footers, logos very easily.  Studiopress has a list of recommended widgets on there website.  The Genesis Theme is advertised as being extremely flexible, not the case if you're new to blogging and using the framework.
If you aren't a developer or not very good with learning or researching some guides on how to add in code into the Genesis Theme, it wont be as customizable for you as it could potentially be.  Many of us aren't able to just punch in some code off the top of our head to edit our themes, so reading guides may be needed.  Again, Studiopress offers support on the forums, and many bloggers out there offer free guides.
Appearance:
The many child themes for purchase allow users of any niche to use.  You can view the themes at Studiopress's website, but any blog with any niche will surely have a theme that fits for them.  You don't always have to go with a theme that was designed for your particular niche. My current theme is purposed towards a food blogger, but I  loved the simplicity and clean look of it that I decided to purchase and use it for my blog.  The options are endless, and I'm positive one of the themes will catch your eye.
Pros:
Great Selection Child Themes
Support available on the forums
Many guides available online
Developer Friendly
SEO Optimized with HTML 5 code
Clean professional Designs
Price Point for everyone
Cons:
Features may disappoint some
Customization may be difficult for some
Initial investment may seem steep for new bloggers
Summary:
To sum up the Genesis Framework Review, I think that it is worth the money.  I would give it 4/5 stars. On the market there are tons of available premium wordpress themes available, and at the end of the day its the blogger owners opinion that matters.  I'm just offering some suggestions and telling you what I've discovered after diving into purchasing the Genesis Framework and themes.  I don't regret my decision, but I want everyone to make an informed decision that makes them happy.