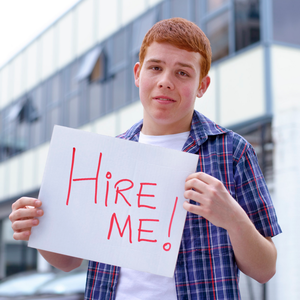 Once you reach age 13 and up, most teenagers want to earn some money that they can spend on things they enjoy doing.  Hanging out with friends, going to the movies or purchasing a product that you really want all costs money.  Some teenager's parents might give them the money to do these activities, but some may not be able too.  When I was younger, my parents always taught me the importance of working for your money and to save up for bigger ticket items that I wanted.  I always found things that I could do to make a few extra bucks that added up over time.
1. Recycling
Bottles and cans are a great way to earn a few extra bucks.  I always liked to return the cans and water bottles as they were the lightest and easiest to carry.  Each can would be worth $.05 cents, so after collecting 300 you would earn $15 back.  You can collect these from your school, neighbors, or even from home.  You could ask your parents if you bring all the bottles to the recycling depot if you could keep the money received from the deposits.
2. Yard Work
Yard work is a huge earner and while you're young full of energy its very easy to do.  Mowing lawns is one way many teenagers can earn some extra money.  If you're able to borrow a lawnmower from your parents or friends then you can goto close neighbors and ask to mow there lawn.  Depending on the size of the yard you could earn anywhere from 10-50$ per lawn mowed.  Mowing lawns only works for roughly half the year, but once winter rolls around if you live in an area that receives snow you can shovel snow for good money.  Older ones aren't able to shovel snow as its very labor intensive on the body.  You can go around your neighborhood and make money and all you need is a snow shovel!
3. Paper Route
Most areas that receive newspapers need a courier, this is a great starter job for young ones!  There is no age restriction or requirements for the job. Most of the time if they are looking for a courier and you apply, you would likely be accepted. Paper routes are generally not very large areas, they can be roughly 100 homes per route for a good sized route.  Depending on when the newspaper deliveries occurs, you could spend 1 or 2 days per week doing this.  At the end of each month you will receive a paycheck.
4. Get a job
Getting a part time job can help tremendously.  For most teenagers having a part time job will provide more then enough income to go out to eat, buy clothes, do activities and also save a little.  Great places to start to apply too that often take teenagers with no experience would be grocery stores, malls, fast food restaurants, clothing stores, landscape companies, and many general labor jobs.
Another option could be walking dogs, or washing people's cars.
5. Peer Tutor
If you're very academically inclined about a certain subject you can use that to your advantage.  If you're really interested in Math and excel in it, many parents hire tutors for there kids.  You can find these Jobs on Craigslist or your local school may have a program.  When I was in high school my school had a program where you could goto the library, ask for a tutor and they would give you a list of numbers to call to hire a fellow student at your own school that you could hire.
Teenagers have an endless possibility to earn a few extra dollars on the side or make a decent income while being young and in school still.  You can find more ways then the methods I listed above, you just need to be creative and think about what you enjoy doing or excel at!